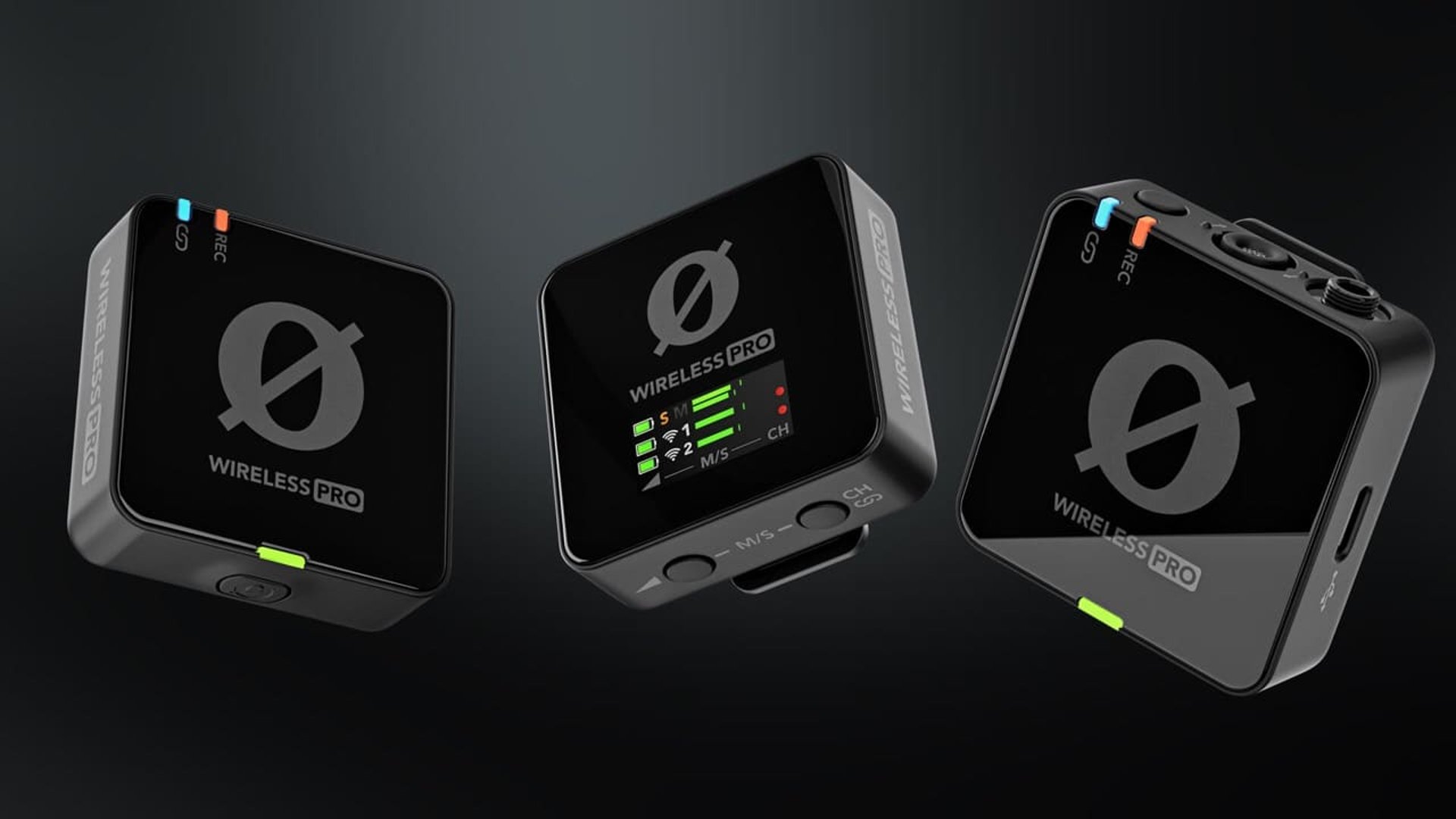 Going Rogue with RØDE: The Future of Wireless Audio
RØDE unveils the Wireless Pro Mic, featuring a design similar to the Wireless GO. With new features like 32-bit float files, GainAssist, and timecode sync, it aims to be the ultimate wireless solution. Is it worth the investment for pros?
ESSENTIALSSETLIFE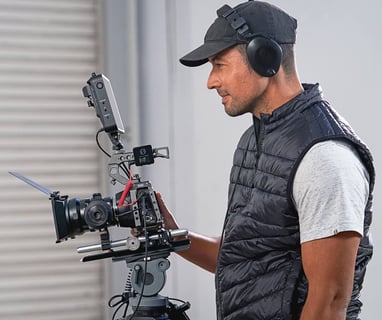 RØDE has announced the Wireless Pro Mic- their newest entry to the wireless mic market. It will surely look familiar to fans of RØDE, adopting a similar aesthetic to the Wireless GO and much of the same functionality as well as added features. Most notably is the added utilization of 32-bit float files, GainAssist, and timecode synchronization. These upgrades are surely welcome to faithful customers, but are they enough to make the RØDE Wireless Pro Mic the ultimate wireless solution? Should a professional sound mixer or audio engineer look to invest?
32-Bit Float
Mention 32-bit float to a location sound mixer and you're likely to get a spirited reaction. 32-bit float files are a method of ultra-high-dynamic-range recording. The primary benefit is the ability to record files exceeding 0dBFS, essentially making a track impossible to over-modulate. This is explained more in depth by our friends over at Sound Devices. So, a ridiculously high-fidelity recording, a sound mixer must love that, right?! Well… it's more complicated. An experienced location sound mixer or audio engineer (such as the staff of Vandelay Sound Exports) whose job is to monitor and deliver high quality audio tracks will rarely (if ever) allow a track to be over-modulated anyway. 32-bit float will not substitute for excellent mic placement- which is the key to a beautifully recorded track.

All of this being said, 32-bit float files certainly have a place in the recording world. Magic can be done with high-fidelity field recordings, soundscapes, and can be especially useful in sound design! Moreso for RØDE customers and fans, 32-bit float can take some of the pressure off meticulously monitoring audio levels. For wedding videographers, vloggers, and other one-man-band setups who are jumping into an unknown sonic environment it can be extremely reassuring that there is extra latitude to work with when you make it to post. It's also worth noting that 32-bit float files are noticeably larger files and do require a different workflow. But, if you are doing the editing yourself and feel comfortable adding a bit of extra time to your post-production timeline, it can be a real life-saver!
Timecode Sync
Speaking of post-production workflow, the addition of timecode capabilities to the RØDE Wireless Pro is sure to be celebrated by everyone showing interest. While nothing can be as foolproof for guaranteeing sync as a slate, timecode is the next best thing. Timecode is a method of assigning a unique time stamp to every single video and audio frame, making it simple for an editing program to sync audio and video together by matching the time stamp.
The ability to have all files perfectly aligned down to the frame- fractions of a second- might be the most enticing improvement made to the RØDE Wireless Pro. Timecode is, of course, standard protocol on any professional set and can often be a make-it or break-it factor for determining if a recorder is more suitable for a hobbyist or a professional. The RØDE Wireless Pro has up to 5 different timecode options, making it a viable option for nearly any camera or other device needing timecode synchronization. It also includes the ability to transmit timecode wirelessly, ensuring consistent sync.
Simultaneous Recording and Transmitting
One fascinating feature of the RØDE Wireless Pro is the ability to record and transmit at the same time. In what is likely a license agreement from Zaxcom, the RØDE Wireless Pro does have something that many high end wireless transmitters do not, although there is plenty of competition that has this feature as well. In today's world of crowded radio waves, the ability to guarantee a lack of radio frequency interference is certainly valuable. Moreso, the chance to mic someone and have confidence that everything they say is going to be captured even if you don't see them or if they leave the building is reassuring in a high stress environment where you only have one opportunity to capture the moment. However, it must be re-emphasized that a continuous recording is useless without proper mic placement.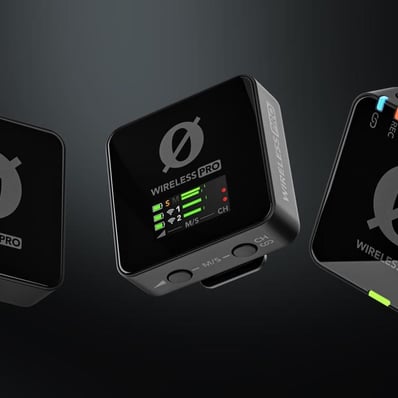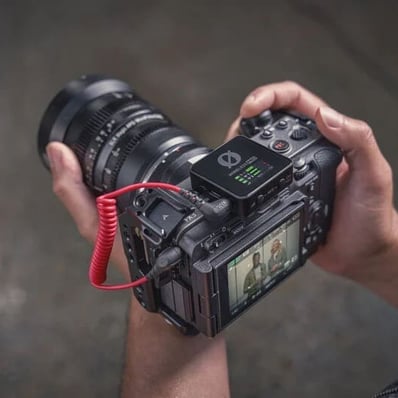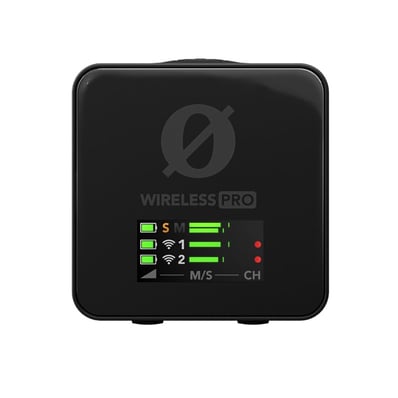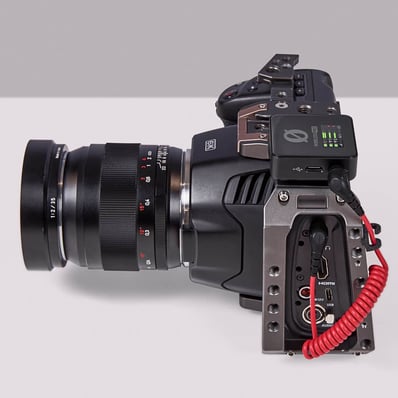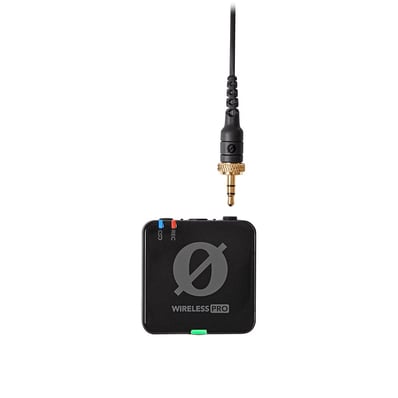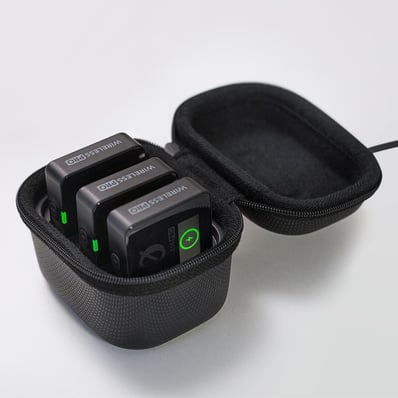 Who is this product for?
Ultimately, while this product is exciting and certainly more powerful than its predecessor, the RØDE Wireless Pro will likely not fit into the workflow of a professional sound mixer in today's world. It promises a mere 7hr battery life, which for most of us means it will barely make it to lunch.That also effectively doubles the amount of units needed to make it through a 12 hour day. Furthermore, and perhaps most concerning to anyone looking for a wireless transmitter to record high quality audio for a long time, the RØDE Wireless Pro has an internal battery that cannot be swapped or replaced. Battery health has become a major factor that must be considered when making any significant technological purchase in today's world. Unfortunately, planned obsolescence has become a major concern for every consumer and seems to be here to stay. If you're willing to upgrade along with every new release, it might not be an issue. But for those who are hoping to get a long and robust life out of your wireless system, it might be worth investing in something with a heftier initial price tag.
Another feature of the RØDE Wireless Pro that raises questions is the fact that these wireless transmitters operate in 2.4ghz band, most commonly used for Wi-Fi. This means that there is likely to be other traffic on the spectrum that these transmitters use, not to mention that many wireless video transmitters are also operating in this band. Furthermore, there doesn't seem to be a way to use the receiver to scan the spectrum and determine how significant the traffic really is. This is especially concerning for anyone who needs to use several transmitters at once. Granted, the ability to record directly into the transmitter can alleviate some of these concerns, but workflow questions will once again come up if you have to download tracks individually. More importantly, it can never be underestimated how necessary and reassuring it is to be confident in your ability to monitor audio as it is being recorded and know exactly what is being said and how it relates to the content you are recording.
Due to these battery life issues, as well as operating in the increasingly crowded 2.4ghz radio band, and lack of menu options on the receiver side, the RØDE Wireless Pro falls short of being a professional solution, especially for anyone who is operating more than 2 microphones.
That being said, for those with a fixed budget who need a solution to audio problems now, or are looking for an upgrade from an on-board camera or phone mic might fall in love with this product. The RØDE Wireless Pro would be right at home for wedding videographers, vloggers, and one-man-band types who are wearing a lot of hats.
So, is the RØDE Wireless Pro the ultimate wireless solution promised by their marketing department? No, it's not. But that shouldn't be a surprise. The best mic is the mic you have, and if that's a RØDE Wireless Pro, it might be just what you need.